As experienced marketing professionals, we know a thing or two about running successful campaigns. We don't usually do this, but a recent campaign for our own marketing has gone so well that we thought we'd share it with you too!
It started with a 'dream list'. If you're unfamiliar with the term, we're talking about ideal customers. Every business has them, even if they don't know it yet – and building a dream list can be a great way to kick off a new marketing campaign. These are your perfect clients, so your extra passion to work with these companies will shine through.
So we've got our dream list, but how do we approach them? These businesses have likely never heard of us before, so we did something radical. Just kidding – we put together a company brochure. You can check that out here: flamingostrategies.co.uk/your-success-starts-here/. Inside you'll want to include your services, perhaps your pricing, but most importantly you need to communicate what makes your product or service unique. Why should your dream list clients buy from YOU?
For Flamingo Marketing Strategies, it's about helping business stand out in their industry so if we're working with you, we'll never work with your competition. This can be rare in marketing, but our clients love us for it because it shows we're really in their corner. Find your USP and run with it!
Our dream list is only around 100 businesses, so sending a printed brochure before receiving any feedback comes with some risk. Of course, we could have asked friends and clients what they thought, but we opted to go one step further. We contacted a number of Emma's LinkedIn connections (filtering out existing clients and those that aren't relevant) with a simple but well-crafted message:
Hi 'Name', I was wondering if you could do me a little favour please? ? We've just designed a company brochure for ourselves. It's only taken 2 years to get round to doing it – we've clearly been too busy doing everyone else's marketing to do our own! As you're somebody I've been connected with for a while now (and you'd be our typical target market), I really wanted to get your feedback so I thought I'd just drop you a message to ask you. You can view it here: flamingostrategies.co.uk/your-success-starts-here/

It'll only take 5 mins to skim through, but I'd really value your input before we send it to print in the next week or so. The key question is – "is it clear within the first couple of pages what we actually do?" Because if it isn't… let me know and we will make some tweaks! I really appreciate your help with this!  Have a great day, Emma
Notice something? We're not trying to sell here at all. We're asking for a favour rather than going in with a hard sell. Most of us are inundated with businesses trying to grab our attention, but we'd like to think most people would being willing to help out a small business for 5 minutes.
Thankfully it turns out we were right, and we received resoundingly positive feedback on the brochure. Check out some of the replies below: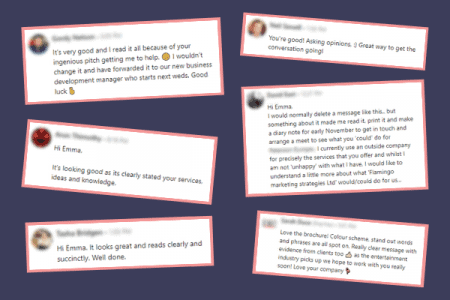 Along with the feedback, you'll notice some genuine enquiries in those replies… and they weren't the only ones! Before even sending this new brochure to print, it's brought in 8 new enquiries from local businesses interested in working with us, and who's to say you wouldn't have the same success? Better still, several of our existing clients have already asked us to replicate this campaign for them.
Naturally, we couldn't be happier with this sterling start to the campaign and we're incredibly excited to roll out the next phase, sending the printed brochure out to our dream list.
If you'd like to learn more about marketing to dream lists, we'd love to hear from you. Why not book in a free 60 minute strategy call with our managing director Emma Sansom, and take advantage of marketing tips that are tailored specifically to your business.
If you liked this post, check out some of our other marketing blogs here and stay tuned for an update on this campaign in the near future!