Our April newsletter starts with some great news: spring is here!
If you're anything like me, you'll love the fact that the days are getting longer (and warmer) as we head towards my favourite time of the year…summer!
With the arrival of Spring, of course, comes the start of a new business quarter – and the perfect time to re-engage with your clients.
At Flamingo, we spend a lot of time helping businesses to reconnect with their networks, so I thought I'd theme this month's newsletter around the best ways to reconnect with your clients – with tips and tricks for social media, writing engaging copy and exploring when you might need some external marketing help.
Enjoy…
Standing out from the crowd on social media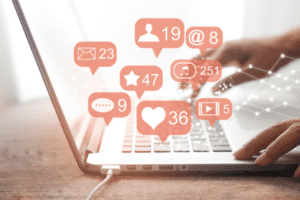 Social media is one of the most popular and widespread ways to connect with and grow your audience and get your brand known to potential new clients.­
However, it can be really tricky to constantly come up with new ideas to keep your audience engaged. With everyone in the market pulling out all the stops to post new and exciting content, how can you stand out from the crowd?
We've put together some fresh, real-life examples of how you can jazz up your feed and make your posts stand heads above the rest with our 11 Social Media Post Ideas blog.
Writing incredible website copy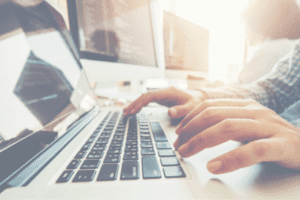 We all know how important it is to make a great first impression. As the shop window into your business, your website is no exception to this rule.
From the moment your customer visits your site, you want to hook them in with enticing copy. But how do you achieve this?
To kick off the process, our 8 Things to Consider When Writing Your Website Copy blog gives you some places to start.
Consider running a competition
If you're looking for an easy way to build your social media followers and engage with your audience, look at running a competition or a giveaway on your pages.
Here's "one we made earlier" – an Easter giveaway on our Facebook and Instagram pages with an exciting prize: a chocaholic Easter bundle full of treats and goodies to share! During the 3 weeks it was live, our social media engagement soared and the post engagements themselves went through the roof!

It might not be for everyone, but if you've got a product you can turn into a competition, or can use an upcoming holiday to tie into a giveaway, give it a try…
Need extra marketing help? Bring in the experts
At Flamingo, we provide a lot of free marketing content to help businesses stand out from the crowd.
But if you've not got the time, the resources or the energy to market your own business, there's a lot to be said for outsourcing your marketing to external experts. If you find the right company who puts your company's needs first and cares about your success, the benefits will speak for themselves.
Our Should I outsource my marketing? article is as relevant as ever and looks at the benefits that bringing in the experts can give you.
____
I hope this gives you some ideas on how to start re-engaging with your clients.
If you do need any further help, I offer free Marketing Strategy calls to any business owner who's looking for feedback or ideas on what they could be doing to market their business. So, if you're looking for some marketing inspiration, tips on getting back in touch with your clients, or are thinking about using external marketing help for your business, let's discuss how our team can help you over a virtual coffee!
Click here to schedule a call, or drop me an email to emma@flamingostrategies.co.uk