So, you're generating record numbers of leads. The marketing funnel is full to the brim. You're happy with the number of people downloading your eBook. Your webinar smashed it. Blog reads are through the roof.  
But something, somehow, is missing. 
Sure, you've created all this interest and people have given you their information, but that's not converting into your sales pipeline.  
Those leads aren't quite as hot as you think, and it takes you longer to identify the stone colds vs piping hot contacts that are ready to talk to you. 
We get it – we've all been there. Sometimes a spade isn't a spade. 
Here's what you need to know about progressive profiling and why it might just be the best weapon in your arsenal. 
What is progressive profiling?
Think of database / CRM marketing and content marketing as being part of a bigger universe. Yes, the likes of the universe that Tolkien wrote of, or Captain America and Black Widow live within. 
This world is contact marketing. It is the world where you speak to the right people at the right time, delivering the right message to them.  
That can sound like a complicated, troublesome world for your business to live in. 
But it's needed. After all, nearly 90% of businesses see an improvement in their marketing by adding personalisation to what they do. Be that a name in the email or something larger like linking a buyer persona to how you present your website. 
Well, this information all feeds in marketing platforms like Marketo, Eloqua and HubSpot to allow for today's topic – progressive profiling. 
At its core, progressive profiling enables you to collect the data you need over time, scientifically, by presenting different questions on your web forms.  
As your buyers go through their journey, further engaging with your website, emails, social and content, you can request new pieces of data at a time, instead of rushing in and asking for too much too soon. 
It will, naturally, force you think about what provides value to each segment of your prospective buying audience. If that segment sees value in your content and wider messaging, they'll reward you with more information. 
This dance between prospective buyer and your web forms continues until, finally, you have a crystal clear picture of the lead which you can then move into your sales funnel as a truly 'hot' lead.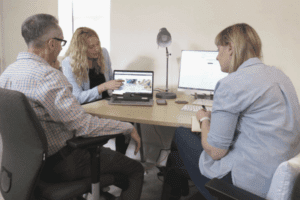 When 

is 

it needed?
It's quite simple. 
 You should always be looking to understand your leads better. After all, the more you know about them, the more you manage their expectations and give them reason for hope, the higher the likelihood that's going to help make them a customer and repeat one at that.  
 So, if that imperative isn't clear, here are some examples of when you really do need to start your profiling efforts:
1. Your database is full of email addresses plus a basic level of information such as a first and last name
2. Your content is only hidden by minimum fields of data, meaning that you capture the same information every time someone completes a form, regardless of the quality or value of the content behind the form.
3. Your content marketing efforts are mature and you have a well stocked library of content, downloads, but no hot leads
4. The time from first form completion to a sale needs to be drastically cut
5. Your marketing executive or sales assistant wastes time collating missing information beyond name and email address
6. You're implementing ABM 
Getting to truly know leads is paramount to marketing contributing to your bottom line (and supporting other business units to provide a seamless, value-rich customer journey).  
Progressive profiling will ensure you have all the riches you need to turn leads into customers and customer into long-time, high-value repeat business. 
Sounds great, doesn't it? 
How does it work?
There is no need to reinvent the wheel here. Just start by identifying your segments of customers, pains, motivators and the like, and you'll have buyer personas. Then follow this recipe for success: 
1. The heroes journey 
Let's draw the marketing funnel (awareness, consideration, decision, delight) and think about the different content that you can create for each section. 
Next, consider what information you they would like to provide in order to access that content.  
Then, to finish it off, build out form questions that you want the answer to so that you can most effectively serve this lead. 
2. Different content for different times 
At awareness, for example an industry trend report, we may only be asking for name, email and company. 
Consideration, for instance would be a webinar addressing the challenges with your existing PA set up and how to resolve them. We're going to want to know the company headcount, job title and phone number.  
The only problem is that, using your existing web forms, you'll have to ask for the name, email and company once more. 
But with a HubSpot, Eloqua or other smart form, which acknowledges your previous entry, you could ask those extra questions whilst pre-filling the form for other information that has already been provided. 
Then, at decision you could ask for information on what the other providers are that they have in mind for a solution. That would be achievable with the above smart form, set up to progressively ask more questions and build a profile of that lead.
3. Know when to ask the right questions 
Indeed, you should map content and questions together, but when you ask for information is really going to be a classic case of A/B testing.  
It would be worthwhile talking to your sales reps and actually going to the market and asking them what they would be willing to provide and when.  
The results may surprise you, but it's guaranteed to help you fine tune your messaging and not leave you cap in hand. 
How to make it work
The recipe above is your starting point, and then it's time to think at a bigger picture level. 
Firstly, ensure you have a platform that is going to enable you to ask these questions at the right time. Without investment in a marketing platform like this, your business, however small or big, won't be successful with progressive profiling. 
1. Go invest in a HubSpot, Marketo, Eloqua or equivalent platform
2. Research your personas, their pains and motivators 
 3. Build your content funnel and align questions from each persona
Ask yourself what you'd like to know about the personas. What campaigns do you plan to run in the next 12 months, what are their topics and how can you ask questions on each campaign to build a clear picture for your sales team? What are the gaps in your existing data set? 
Think about your data usage with GDPR in mind. Don't capture data for data's sake. Use that data to improve the buying experience for your leads.  
Develop an implementation plan for rolling this out. 
 4. Get to implementing your progressive profiling/ 
How this comes together is truly dependant on the platform you've chosen. 
But, in a system like HubSpot or Infusionsoft, you'll be able to achieve this by creating the forms for each piece of content you have on your site / landing pages. 
Then you can set standard questions and questions to load in once those have already been captured.  
In the latter stages of creating that form you can choose to auto fill fields and, with your lead scoring in mind, assign a lead score in your settings section of the system. 
Now, every visit and submission will equate to the questions you want to ask being answered, providing they're what your audience feels comfortable answering.  
 5. Measure, review and optimise. 
Like anything in life, you must measure and review your progressive. Establish goals for form fields you're adding in and measuring if you're getting enough information provided. 
You can tweak as you go along. 
And, ultimately, ensure you have a two way dialogue with sales about how the information you've gathered has saved time and enriched the selling process. 
And the benefits?
Here are five progressive profiling benefits to consider: 
1. You're going to have to capture this information in some way. Whether that's self-serve via progressive profiling, or the cost of £18-24k a year on an assistant or executive to manually gain this information. Why not ensure that your leads control the information they give you and build some trust along the way? 
2. Conversion rate boosts are a plenty. That's right. Ask as many questions as you want, but with the power of smart forms you can limit yourself to only 3 questions a time, meaning your leads won't have form fatigue or anxiety over how much effort and information they're providing in one go. 
3. Meritocracy. If your content is of value, your leads will keep coming back. What better measurement of trust than that? 
4. Buyer persona enrichment. Get closer to your leads and you'll be able to serve them and future ones even better by homing in on the wants and needs with less time and more efficacy.  
5. Bottom line growth. You're going to be accelerating your leads through the funnel, and that means you'll get value from your marketing sooner, and hopefully long-lasting value at that. Perfect. 
Closing thoughts
Progressive profiling is where you'll take your digital marketing to the next level. 
Get closer to your leads and you'll reap the rewards. 
Sure, there's investment to be made in strategic thinking about buyers, questions and adopting a platform like Marketo or HubSpot, but like they say, you can't make an omelette without breaking an egg…