Are you planning a Christmas marketing campaign this year? Then you're already too late!
Jokes aside, it's very important to start planning Christmas campaigns early if you want to get ahead of the competition.
As the end of 2021 quickly approaches, there are several important dates that your business can leverage and lots of great ideas you could employ to get your name in front of your customers!
So…here are 9 Christmas marketing ideas to boost your sales this year
1. Black Friday & Cyber Monday!
It's pretty obvious that these are the two dates you should definitely mark on your marketing calendar each year. Black Friday (Friday 26 November) and Cyber Monday (Monday 29 November) have become so big in both the retail and e-commerce world as well as many other types of businesses.
Where to start?
You can leverage your Black Friday/Cyber Monday marketing campaign to bring more attention to your brand AND your upcoming Christmas marketing campaign.
Of course, you can offer the massive discounts that all other retailers do, but what will make you really stand out is adding value to each purchase and most importantly, boost your sales.
Bring Black Friday and Cyber Monday buyers back for Christmas by doing one of the following:
Offer a promo code that's valid for the rest of the year
Throw in a 'Christmas stocking filler' product for free
Offer free postage and free returns
Black Friday and Cyber Monday are great opportunities for you to increase your sales. You can also use these occasions to grow your email database in the lead up to the Christmas rush.
2. Work together with a charity
Emotion plays a big part of the Christmas experience, and charities often use this time to drum up some fundraising for themselves. By partnering up with a charity you can help spread the message of what those charities do – and show your philanthropic side while you're at it!
Here are a few ways you can get involved:
Donate a certain percentage of every sale to a specific charity
For every product that is purchased, match it and donate the same amount of money to charity
Give your customers the chance to donate to charity through the checkout process
Partnering with a charity is a great way to spread more brand awareness. You'll also build your network and most importantly, do something good for the world!
3. Run a holiday giveaway
'Tis the season of giving! Let's face it, especially during the holidays, we all like a good gift or two (hello re-gifting!). So… this is the perfect time of the year to run a giveaway.
Want to increase your social following? Bingo!
Why not make the whole month of December about the advent calendar you've got going on? Share a daily clue people need to solve to work out what the prize is related to or ask people to comment their favourite thing for a particular topic each day – eg. 'your favourite Christmas drink'.
Tadaam, a European internet provider is a great example for this. Last year Tadaam ran an advent calendar giveaway on their Instagram where they had movie-themed decorations on a Christmas tree. To win, you had to take a guess which film or TV series they were to win a load of gadgets like headphones or a Netflix subscription.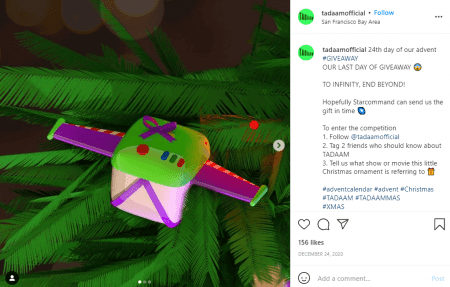 It is important to make sure the prize you choose is something your target market (or current audience) needs. The idea is that by choosing a prize that appeals to your target market, the more of those people you will attract.
Typically, asking followers to comment, share, like etc. are great tactics to get even more engagement on your giveaway.
Want to grow your email database? Jump to it!
Focusing on growing your email subscribers can be very valuable. Once you have someone's email you can send them value-packed messages that eventually lead them to your products and services.
Whether it be a big discount, a free add-on with an order or just something completely for free, get into the holiday spirit of giving.
4. Create a gift guide
Creating a simple gift guide can be a great way to draw people to your products that make the ideal gift. While technically nothing more than a simple collection of products that people can buy as gifts for others, it can be really useful for customers looking for those special finds.
Here, you can see an example of what a gift guide could look like, showing a collection of products that make perfect presents: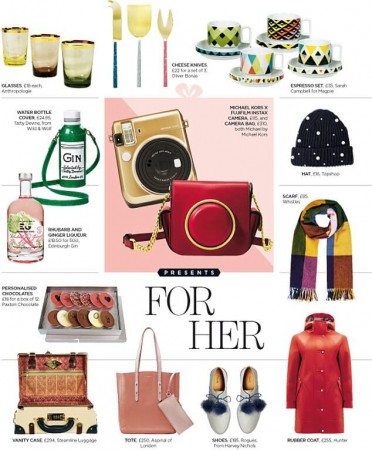 5. Offer free shipping
Today, buyers expect free shipping.
It doesn't matter whether it's a small bottle of beard oil or a kitchen bench, free delivery is an incentive that many people expect, especially during the holiday period. But you may have to adjust your pricing to absorb the cost of postage.
Don't worry though. This slight increase in price is often overlooked by your customer when they see the words 'free worldwide shipping'.
6. Bundle items
Want to take the gift guide to the next level? Consider bundling some of your most popular items together. In the example below, you can see how even Amazon likes to bundle items together: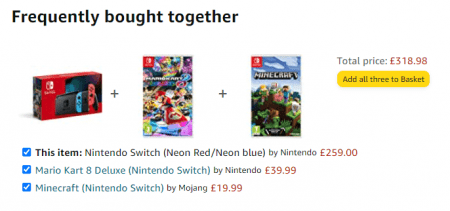 Buy a game console and you're reminded to buy a few starter games, just in case.
What's the benefit?
The benefit your customer sees is a 'bargain'. Products bundled together increase the perceived value of the items. This effect multiplies when bundled items are discounted. This increases your average shopping basket spend as well as your conversion rate.
Why not order your own custom gift boxes to bring your bundled items together into one nice neat little package?
7. Get into the holiday spirit – update your imagery
Anyone that visits your website, blog or social media pages should know that you've got a Christmas promotion on. In the following example, you can see what Balsam Hill did a few years ago: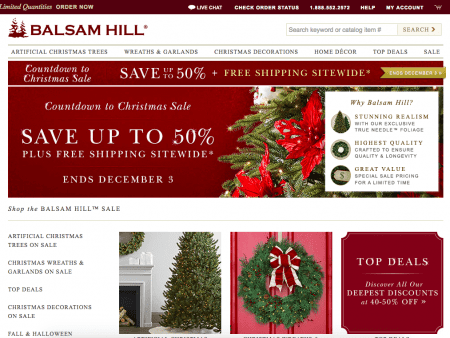 This makes it obvious that you've got a promotion on. The easy-to-read banner is essentially Balsam Hill showing how they can save you money this festive season, and that's a great message for you to deliver to your customers.
Be sure to update your social media imagery too.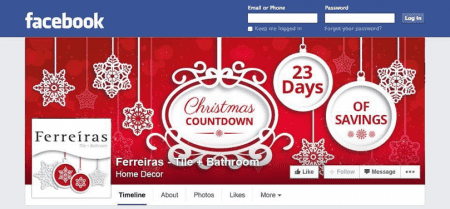 In the following example, you can see how Ferreiras have updated both the Facebook cover image and profile photo to a Christmas theme. The result? Anyone that visits their Facebook page knows that they have a sale going on.
8. Don't forget 'after' Christmas
We all experience that blurry period between Christmas and New Year (alcohol-induced or otherwise!). And this is a great time to continue pumping out your sales. This is a time when people are usually being over-indulgent, happy and relaxing with their family – and passing their time on their phone. Offer a 'Santa didn't get me what I wanted' flash sale and heavily discount any products that you'd like to move quickly.
9. Personalised gifts & a Christmas card
Get nice and personal! It's all about showing who you are as a brand and standing out from the crowd. This is why we have our very own chocolate-shaped Flamingos that our clients love to get their hands on! During the Christmas period you could look at giving a personalised gift to your customers as a small thank you. Add a personalised handwritten Christmas card – it'll make their day!
Final thoughts…
So as you can see.. these are just a few of the things you should be looking at if you're thinking about running a Christmas campaign this year. 2021 has gone by in the blink of an eye, so take advantage of this opportunity… November and December will be here quicker than you think and of course it's best to get your campaign live before everyone else catches up. We've got plenty of seasonal marketing ideas for more than just the holidays!
What are you waiting for?! Get in touch if you would like to stand out from the crowd and get ahead with your Christmas marketing campaign.
Have a great day,
Emma