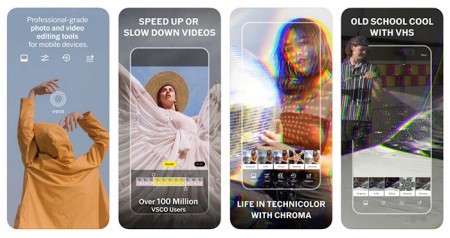 Wondering how to edit Instagram photos? Then look no further than VSCO.
VSCO is a specialised photography app allowing users to capture, edit, and share images. With a superior following, this app has over 40 million active users and counting. In fact, its accounts increase on average by 802% each year.
The popularity of this photo editor tool is prevalent on Insta, with over 200 million posts featuring the #VSCO hashtag. The app includes ten free filters and photo editing tools to enhance photography, such as saturation, grain, and contrast.
Users can upgrade to become VSCO members, where they'll receive over 200 pre-set filters and more advanced photo editing tools. Although we don't advocate the use of filters, we do see great value in adjusting the quality of the imagery to make your post really stand out.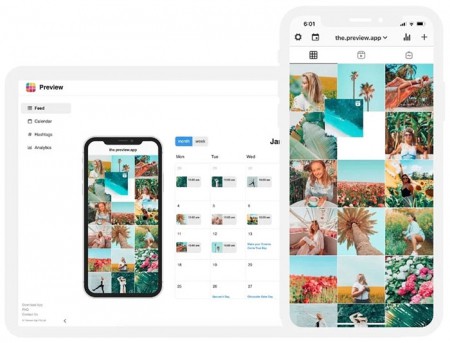 The PREVIEW app is in the name – "preview". This innovative app is an excellent Instagram hack tool for users that want to see how their feed will look before posting. PREVIEW has multiple other features and capabilities, claiming it's – "EVERYTHING Instagram you need in ONE app."
For example, you can easily drag and drop videos and photos into place. All this before setting a date and time for the release. The app also includes:
Hashtag suggestion tool
Free templates and a selection of filters
Caption ideas
Analytics
Repost features
With over 9 million users, it might be time for your business to take advantage of this apps multifaceted capabilities.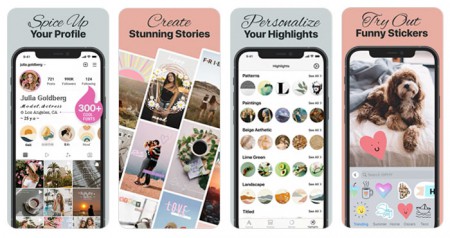 Looking to create eye-catching text for your Insta posts? Fonts Art is the ideal Instagram hack tool for you. This handy app supplies unique fonts with a custom font maker and a selection of over 300 font styles. The key features of Font Art include:
A variety of creative fonts
A range of symbols
Story maker
Highlights covers
Custom icons
Fonts Art creates bios, captions, layouts, and highlights that make your text stand out on your Instagram account. It's the perfect editing tool for creating killer stories.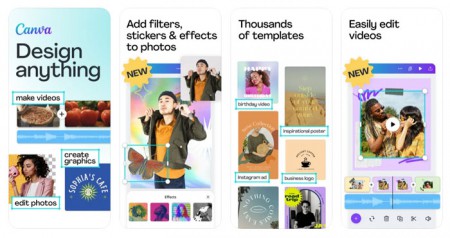 If you don't have access to a quality graphic designer, Canva is your cheap alternative. With so many features, Canva has the power to make your Insta posts, stories, and ads much more engaging. In the app, you get:
Free templates
Photo editor
Video editor
Graphics design
Collage maker
Over 2 million royalty-free images
Text and font features
In terms of versatility, Canva is the Instagram app that has the most to offer.
If you're a small business managing your own social media campaigns, then Canva is a very simple, all-in-one app that can help streamline proceedings.
So, if you want as many Instagram editing tools as possible in just one app, Canva might be the one for you.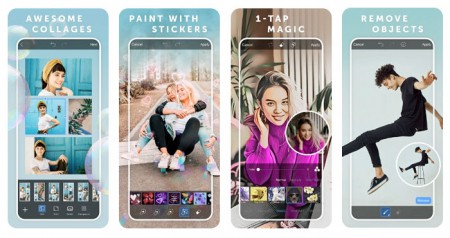 Picsart is a popular photo and video editor for Instagram, claiming to help over 150 million creatives worldwide bring their creativity to life.
While it doesn't have the same versatility as Canva or Preview, Picsart remains your all-in-one video and photo editor. The key Picsart features include:
Excellent filters and background eraser
The capacity to remove unwanted objects in photos and add text
A vast selection of curated and free images
The power to edit selfies with hair colour changers and makeup stickers
A collage maker
A drawing tool
Picsart is especially beneficial if you work in the creative or travel industries. The emphasis is for content on social media to stay as fresh and stimulating as possible. Picsart gives you the features to be more unique, artistic and eye-catching with your visuals. Keep your stories fresh, and allow your posts to pop!
What Are the Best Instagram Editing Tools for Your Business?
With so many Instagram editing apps to choose from, we recommend utilising all the free trials or 'Lite' versions to see what works for you.
At the end of the day, an Instagram hack tool is only effective if it makes sense to your business. Consider what you're trying to achieve. Are you fussy about the way your social feed looks visually? If not, you probably don't need PREVIEW. Similarly, if you have an in-house graphic designer, then refrain from uttering "Canva". (Trust us, it's not worth it!)
Still unsure? If you need some advice in making the most of these editing apps for your Instagram marketing exploits, speak to us at Flamingo Marketing Strategies.
As social media specialists, we have the Instagram nous to enhance your brand with editing apps and help you stand out from the crowd. Get in touch to find out more.