It seems it was only yesterday we were writing our January newsletter… February has flown by, hasn't it?!
While we've certainly 'felt' the shorter month, a lot has happened…
So on to this month's newsletter then!
After an incredibly busy year of challenge and change – doubling the size of our team, moving into our new offices and overcoming the setbacks caused by the pandemic, Flamingo Marketing Strategies has been selected as a finalist in the Outstanding Achievement Award category from the Leamington Business Awards 🙌🏻
It's definitely made the ride 100% worth it!
The winner will be announced on the 18th March… we'll keep you posted!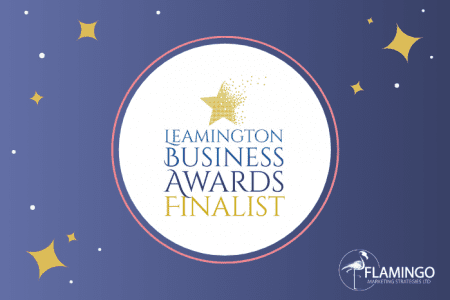 What else has Team Flamingo been up to this month?
Emma is busy rehearsing for her upcoming show 42nd Street, which plays in April.
If you want to show her your support too, you can book tickets here.
Having finished his panto in January, Chris treated himself to 2 shows in London's West End to get his theatre fix, enjoying Dear Evan Hansen and Moulin Rouge. We're all very jealous!
Next up, Heather added her first hike to her list as she's exploring the UK with her partner. They went for a lovely weekend away to the North of England, all the way to Sowerby Bridge and Stoodley Pike and she got some great photos! She says the word 'windy' has a totally new meaning now!
And finally, James has been perfecting his dance moves as he's recently taken up Salsa classes. He's ready for the dance floor!
So as you can see, the creativity certainly doesn't end when we leave the office!
Now on to more Flamingo news…
Want to bring your website back to life in 2022?
You can! Thanks to a website audit performed by one of our marketing experts!
We'll review your online presence and provide you with useful and tangible advice on what you can do to make your website look and perform better.
If this sounds like something you're keen to explore this year, have a look here.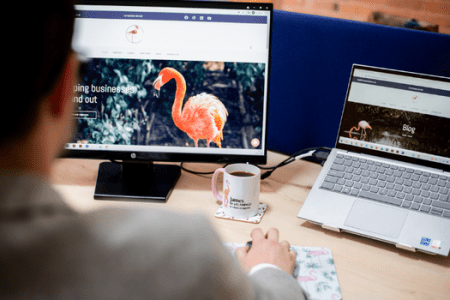 After hosting a number of successful webinars for several of our clients in very different industries… it's time to launch our very own Webinar: 22 Marketing Ideas for 2022.
In this webinar, our Managing Director Emma will share 22 useful tips and tricks, as well as a TON of ideas you and your team can implement yourselves.