Whether it's a short opinion piece or an excellent example of high-ranking SEO content marketing, blog writing has the power to persuade, engage and entertain readers.
It's also a brilliant way to drive traffic and enhance your credibility as an individual or business. In fact, companies who blog get 97% more links to their website.
For an accomplished blogger, writing a blog post can be a quick process. It all depends on the style, purpose, and publication of the piece alongside the writer's capabilities.
But for a blogging novice, it can be time-consuming, challenging and sometimes frustrating.
With this in mind, we've put together some top blog writing tips designed to help you complete a piece in just 30 minutes or less.
Blog writing 101: the best way to write a fast blog
Interestingly, most of the blog writing process isn't actually spent writing!
When you consider research, planning, editing, breaks for coffee, and whatever else goes into the blog writing process, the minutes can soon start stacking up.
Take all this out of the equation, and you might surprise yourself with just how quickly you can get the words down.
Zenpost states it takes a blogger around 3 hours and 20 minutes to write a blog over 1,000 words, while The Success Bug thinks 2,000 words can be done in 20 minutes.
Wherever you stand on the matter, you can only write quickly if you're:
Well-prepared
Confident
Experienced
Realistically, 30 minutes is only enough time to write a short-length (300 words) opinion piece, more in line with an extended social post, rather than a longer-form blog of genuine quality.
However, why not give it a go? Time yourself and see what you can do in 30 minutes. As most writers know, having tight deadlines can really accelerate proceedings.
If you're including anything outside typing, such as keyword research, image sourcing, editing and researching topics, then it's impossible to produce something of value and length in half an hour.
The key to quick and effective blog writing is practice, confidence, in-depth knowledge of your material and a plan of action. Starting with these blogging top tips:
The best way to write a blog post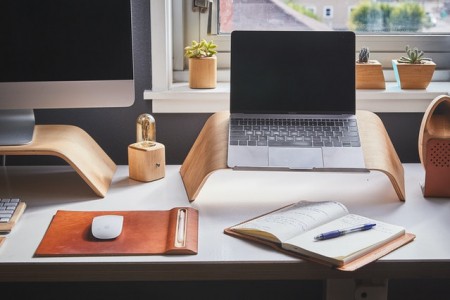 The best blogs will find their intended target audience. Unfortunately, most get cast into the vast chasm of the internet ether. First Site Guide reports only 30% of blog posts will achieve success.
To stand a chance of writing a quick and successful piece of content, a blogger must:
Not knowing who you're writing for is the first crucial mistake. Writing is supposed to be read, so it pays to know who is likely to read it. If you don't know, add this to the top of your research list.
Get into the head of your reader. The best bloggers write for their readers, not for themselves.
Become a master of their niche
The ability to write with confidence comes with knowledge of your subject. A writer's worst enemy is doubt and hesitation.
Specialise in a subject you're passionate about and watch the words fly onto the page. If you're an expert in your field, the words will flow.
A perfect way to cut the idea process down and maximise your organic presence is to create topic clusters. A topic cluster is a group of topics branching from the main subject area. It's a great strategy to adopt if you wish to become a master of your niche and dominate the keyword landscape.
Most blogs follow a certain rhythm and flow. Keep the paragraphs short and sentences snappy. Entice the reader with headlines and captivate them to read more in the intro. Lead the content with your conclusion in mind.
'Hook the reader' headlines
Headlines are supposed to stand out and capture the readers' imagination. Simply stating the obvious is too bland. Ask yourself, 'will my audience read on after reading this headline?'
Be specific, use numbers and avoid vague, overused words like 'great', 'incredible' or 'amazing'.
When writing a blog, the intro is integral. This is where you lure them in. So, don't give it all away.
The intro is your chance to flirt and reveal that peek into the honey pot that keeps them reading.
Speak to the blog writing experts
Without experience and profound knowledge of your subject, writing blogs isn't a 30-minute job. So, if you desire expertise and advice in the blog writing department, speak to Flamingo Marketing Strategies.
Our content writing gurus can create valuable blog content that boosts your brand's reputation and makes you stand out from the crowd.