This newsletter is going to be a little different this month. As it's Flamingo's 3rd birthday, I'm writing unfiltered and unedited, sharing some lessons I've learnt along the way, so it's no surprise that our June newsletter is going to be all about us.
In fact, whilst we are talking about newsletters, you may have noticed that last month we didn't even get round to doing one – the truth is, it's because something incredible happened…
Yes, for the first time since setting up Flamingo – I went abroad for TWO whole weeks to Mexico with my family and did hardly any work whilst I was there (hence no May newsletter!). And by 'hardly any', I mean I checked a few emails in the first few days and then left Flamingo in the very capable hands of Chris and James. My dream team.
This is a pretty big achievement to feel so confident in my team (who have both only been with me just over a year) and completely switch off! I came back feeling SO refreshed and a lot happier (with a nice little tan too!). The fact that our cleaner even said "oh good, you seem happy now" suggests the break was long overdue. Clearly, I needed the break more than I realised!
Recruitment is probably one of the trickiest things to get right when running a business. I've certainly had my fair share of stories (and not just with Flamingo), however I've struck gold with Chris and James. They've set the bar high for any future employees of Flamingo, that's for sure!
The biggest thing I want you to take from this part of the newsletter is never be afraid to delegate. If I'd not learnt to let go over the past year and given my team their wings (no pun intended) then I'd still be sat at my desk looking very miserable, according to Lucia the cleaner.
You need holidays!
Build a business that allows you to do it, without losing control. No staff? Don't worry – there are lots of incredible VAs out there. Need the phones answering whilst you're out of the office? Contact The Office Genie. Need full VA support? Speak to Sarah at Ewes Me Virtual Assistant. Need a marketing department to run your campaigns whilst you're soaking up the rays? I might know someone who can help 😉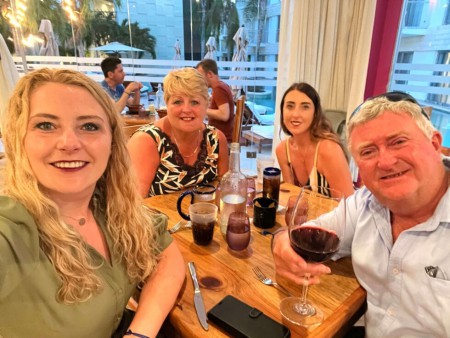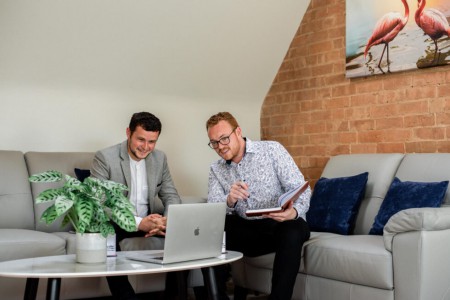 What they don't tell you about running a business
You may have heard the saying 'not all business is good business'. Well, we've been a victim of making this mistake this past year in particular, and since I started Flamingo to be honest. I don't regret taking on any of the clients we have – every decision is part of our story and has got us to where we are today whilst teaching us valuable lessons along the way. However, we have been burnt a couple of times this past year so now we are trying to get better at working out who we should work with, and who to turn away.
The issue I personally have, is that sometimes I think with my heart and not my head. I'm sure sometimes you are guilty of that too. You take on some work because you really want to help the person and you know that you can. You ignore the initial concerns you have and you trust that they are fully invested, convincing yourself that everyone will win in the long run.
There's only one loser in these situations. And it isn't them.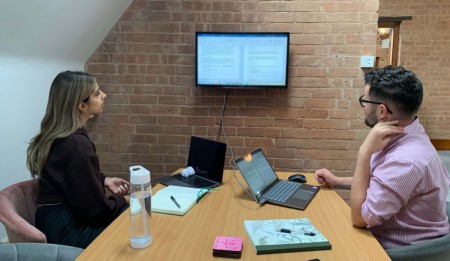 Suddenly you're dealing with the frustrations that come with that, whilst trying to service all your other clients, make sure the team are happy, and do all the business admin! It's just a problem you don't need and it will cost you way more in the long run. TRUST. YOUR. GUT.
You start a business and believe that the ultimate goal is to get new clients or customers and make money, ideally with high profit margins. But seriously, I've worked out this is NOT what makes a happy and sustainable business. Obviously, it is great when this naturally happens. But it isn't the be all and end all. Don't let it cloud your vision when deciding on what jobs to pursue.
What is the key to success? It's about working with the clients that bring you the most joy. It's about being sure that they are the right fit for you, not just that you are the right fit for them. These are the clients that stay with you. It's about knowing your numbers! We don't want loads of clients. We cap out at 15. It's about understanding that one size does NOT fit all, each client has a different way of working and you have to adapt! We've met some amazing clients along the way and are proud to still be working with clients who have been with us since the start.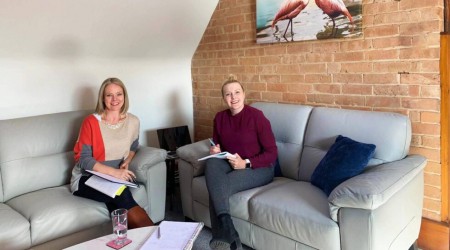 So whether you're reading this and you are new to running a business or you're well established and still making this same mistake – hopefully it'll reassure you that you aren't alone. You can and SHOULD change it.
The best way forward is to work out who you ACTUALLY want to work with. Do your 'ideal customer profiling'. Meet every client face-to-face when you can. For me, I want to build friendships with my clients. In fact, I'm going to Lincoln this weekend to stay with a couple who were our very first client. That's what it's all about. These are the clients that make it all worth it!
Money isn't everything. Happiness doing the job, is.
That's the biggest lesson for me so far.
After a whirlwind of a year with lots happening, we have got some REALLY exciting plans and projects in the pipeline. I've taken time to reflect on where we are and where we want to be. Year four might just be the year Flamingo really takes flight (no pun intended – again).
In 2021/2022 we took on the office, grew our team, perfected our premium offering to our existing clients and learnt A LOT about the sort of clients we want to work with. We've named it the year of change. Year 4 is going to be the year of clarity. We know exactly who we are, what we are best at and we are about to get ourselves out there and show the world what we can do!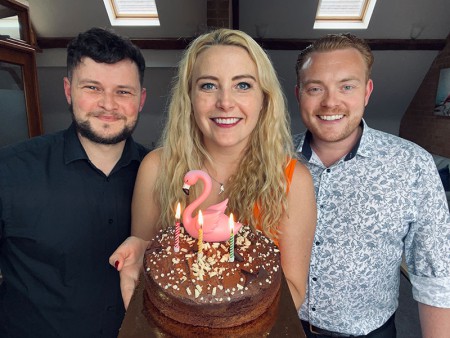 To date, we've worked with SMEs… in year four we will also be helping the smaller one-man band / self-employed businesses too. So, if this is you… keep an eye out for our brand-new offering! We are just weeks away from rolling it out.
We are also on the brink of launching another service for companies operating B2B.
If you're interested in some SERIOUS lead generation and database building of engaged prospects – you don't even have to wait. Give us a call today on 01926 350 040 or book in a call here and I'll explain it all.
You'll wish you'd known about this sooner!
I just want to say if you're reading this, you've probably been a bigger part of our journey than you know. All the support and love we've had from our family, friends, clients and people I've personally met along the way never goes unappreciated. So, thank you.
One last shout out to my beloved Nan, my guardian angel. Minnie is a massive part of Flamingo as it was launched on her birthday. Happy Heavenly Birthday Nan. The brightest star in the sky.
Right, let's see what Year 4 has in store for Flamingo Marketing Strategies Ltd.
Cheers!