Hello and welcome to our June newsletter.
Today we are REALLY excited to share our news with you, as lots of wonderful things have been happening here at Flamingo Marketing Strategies and I thought I'd save them all up to share in one article!
First of all, today is our 2nd birthday.
As many of you will know, Flamingo was launched in honour of my Nan, Minnie – so it's also her birthday. Happy Heavenly birthday Nan ❤
Second of all, 2 years ago we started as a back bedroom business… 2 days ago, we moved into our first official office in Leamington Spa, just in time for our Anniversary!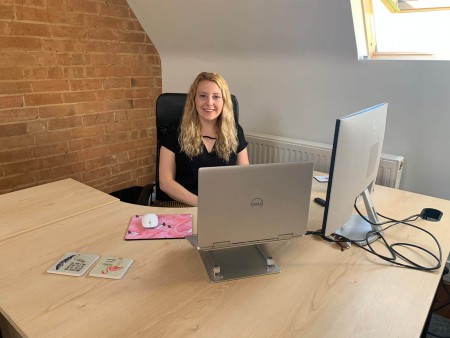 More to come on this next month as we open our doors to visitors, but we are incredibly excited to announce that we are now located at The American Barns, in Leamington. If you're one of our clients reading this, keep your eyes peeled for an invitation coming your way in the next couple of days!
Finally, as we complete our final month before we start our new financial year, we have not only doubled the number of staff in the last 12 months, we've also doubled our turnover during the year of the pandemic.
It was far from easy, but fortunately we know a thing or two about marketing
So THANK YOU so much to every single client who has been part of the journey with us over the last two years, and we can't wait to see what year No 3 brings!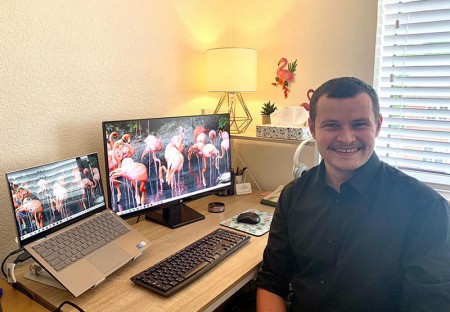 Meet James, the latest member of our growing team
A challenging yet rewarding year has seen us take on more clients, more projects, and a lot more work. This upwards trajectory of growth in the business has allowed us to expand our team at Flamingo Marketing Strategies and take on our new Content Marketing Executive, James.
James comes from a background of marketing work for both commercial and non-profit organisations, with a particular focus on engaging target audiences through social media. He'll be lending his skills in copywriting, analysis and graphic design to a wide variety of projects and clients at Flamingo and we're really excited to have him on board for this next chapter in our story.
He Loves…
Travel, music, Mexican food, and stand-up comedy.
What James says about joining Flamingo Marketing Strategies…
I'm really excited to be a part of this growing team. Emma's already giving me the opportunity to put new skills to the test and improve on existing ones. I'm looking forward to what's ahead!

When you're under pressure to achieve short-term results, it's easy to rush your email marketing.
However, when you do this, it significantly influences your email open rates and damages the long-term health of your list – as the following statistics demonstrate:
The average email open rate is only 17.8% (Source: Campaign Monitor)
The average email click-through rate is 2.65% (Source: Campaign Monitor)
21% of permission-based emails still end up in the junk folder (Source: ReturnPath)
The key is to take a step back and consider which actions are impacting your email marketing performance.
Read our blog here for advice on common email blunders and 9 easy methods to improve email open rates.

We're often asked…what affects the performance of a website?
From nightmarish navigation to pedestrian page loading speeds, there are several factors to consider when taking on the challenge of website performance optimisation.
A good place to start is by understanding the pitfalls, so you know how to minimise bounce rates, enhance the user experience (UX) and improve website performance for SEO.
If your website is struggling with one or all of these challenges, read our article here! We dive into the common mistakes and how to overcome them with smart design tricks, crafty content and good website features.