Branding dates all the way back to 2000 BC, where traders, farmers and craftsmen would 'brand' their items to ensure they stood out amongst the rest. In modern day, very little has changed. Your brand is a reflection of the attributes, benefits, and feelings people associate with your business. 
So in short, your brand is your reputation. And reputations must be earned. 
One thing we've found though is that lots of business owners work incredibly hard to deliver value to their clients, but fall at the last hurdle when it comes to feeding that effort back into their branding. And it's painfully simple. 
Just ask. Ask your customers to leave you a review. This is even more important for B2B businesses because the volume of customers is typically much lower than it is with B2C, so each review is so much more valuable. 
At this point you might be thinking 'I have been asking, and getting nowhere'. To that, we'd ask you when? If you're waiting for the perfect opportunity, once things calmed down and they're less busy…don't. The absolute best time to ask for a review is when you've just made their day. 
Whether it's delivering on a big order, settling a case or securing your client a brilliant new lead, strike while the iron is hot. 
We don't just talk the talk either. We've had some brilliant success recently with a new client, and asked them on the day to write a review for us. This is what they had to say: 
"Within 48 hours of starting our lead generation marketing campaign, we had secured meetings with senior contacts from THREE world-renowned multi-billion pound companies. We would highly recommend Flamingo Marketing Strategies to anyone looking to grow their business, and we can't wait to see more results like this. The best part about working with Team Flamingo is that they can't do enough to help us! From designing brochures and writing email content, to helping us jazz up sales presentations – they really have become an extension of our team!" 
Mattan David – Digipal Solutions Ltd 
Our final tip? Make it REALLY easy for your clients to leave you a review. There's a couple of ways to do this. If you're using Google Business Profile, you can share a link straight to your 'Leave a review' form. Just find this button from your Google Business Profile home page: 

It'll pop up with a link just like this: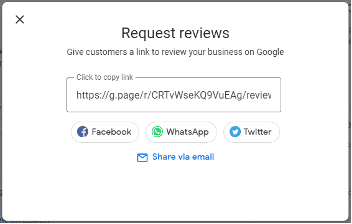 They'll be free to leave you a rating and write to their heart's content about how wonderful you and your business are. Simples! 
To improve your chances even further, why not write something for them and send it over? More often than not, they'll not only approve it but feel compelled to add their own words too.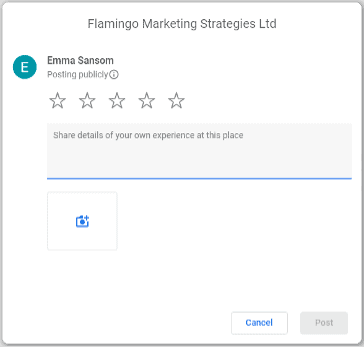 If you're working hard delivering value for your clients but struggle when it comes to reaping the rewards and building your brand reputation, you're not alone. We're helping businesses in all sorts of industries tackle this challenge, and we'd love to support you too. 
Check out our article on How to Generate Leads Without Cold Calling.
Book in a free strategy call today. 60-minutes of your time might just transform the way you market your business in 2022!