By Chris Cooper, Marketing Manager, Flamingo Marketing Strategies
When it comes to awards ceremonies in March 2022, naturally all everyone can talk about is the Oscars…and for all the wrong reasons! However, there was another ceremony a little closer to home that's been more important to Team Flamingo in recent weeks – the Leamington Business Awards!
As we announced in last month's newsletter, we were selected as a finalist in the Outstanding Achievement Award category, and so were invited along to the awards ceremony on Friday 18th March. Here's how it went down…
***
A few weeks ago, our Content Marketing Executive James and I finished up in the office and then headed into Leamington town centre to our venue for the evening, the gorgeous 1 Mill Street.
Opened in 1905 as the Urquhart Hall, it was originally the parish hall for All Saints Church and has served as a community centre for decades – including housing a military group during WWI; being used as a temporary theatre for the Loft Theatre Company after the Colonnade Theatre was destroyed by a fire in 1963; and becoming The Sikh Community Centre in the 80s.
After lying empty for a few years with failed planning applications, it has been re-born as 1 Mill Street, a co-working space for start-ups and entrepreneurs, with lots of creative spaces and an open café / bar too.
As we arrived, we were greeted with a glass of prosecco at the door before finding seats in the café. While many of the original features throughout the building remain, this area is one of the most modern. With glass-fronted offices, meeting rooms, and even a recording studio, as well as full-height (fake) trees with fairy lights, there was a great atmosphere in the air as other finalists arrived.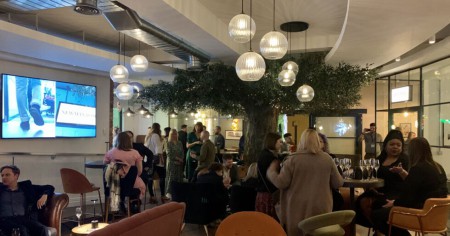 After time to mingle and chat with other guests, we were ushered upstairs for the main event. Rows of chairs were ready for us, so we found a seat and had a flick through the stylish programmes waiting for the ceremony to begin.
The hosts for the evening were local DJ Kirsty Leahy and Jonathan Smith of Talk Business UK who have run the event since 2019. They were also joined by Warwick & Leamington MP, Matt Western.
As explained to us, the innovative awards themselves were 3D-printed by a group of students from Warwick University. With a competition run last year for different designs to be submitted, the chosen design was then produced for this year's ceremony.
While we sadly didn't win this year, we were honoured to have got so far. Being the first award that we had entered ourselves in for, we were delighted to have got through as a finalist, one of just three companies shortlisted for the award…and that's an 'Outstanding Achievement' in itself!
Billed as 'The only awards scheme developed for the town, by the town, about the town.', while it may not have had the celebrities, the red carpets or the designer fashions, it was great to see the local business community come together in recognition of everyone's success stories over the past year. We'll definitely be entering again and who knows, maybe next year we'll be up on the stage collecting an award!